The Living Last Supper Rehearsal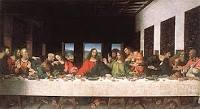 THE LIVING LAST SUPPER


On Maundy Thursday, March 29th, The Living Last Supper was presented at

7:00 P.M. in the Sanctuary. This service is inspired by the famous painting by

Leonardo Da Vinci. The Choir sang, accompanied by guest musicians.

The service concluded with Communion served by the "Disciples" themselves.

The pictures below were taken during the dress rehearsal.