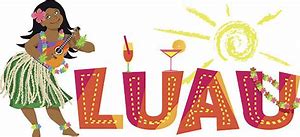 We had a luau on Friday, September 14th, at 5:30 P.M. in the Fellowship

Hall. Dinner included a tropical fruit cup, sweet and sour chicken, vegetable fried

rice and pina colada cake. Everyone received a flower lei and a poi sample and

we were entertained with an original skit with special guests. All who attended came

dressed in a casual tropical outfit.