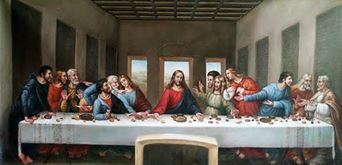 MAUNDY THURSDAY - THE LIVING LAST SUPPER & COMMUNION


On Maundy Thursday, April 13th the Living Last Supper will be presented at

7:00 P.M. in the Sanctuary. This service is inspired by the famous painting by

Leonardo Da Vinci, depicting the instant that Jesus told his disciples that one of

them would betray him. Each of his followers steps out of the picture and voices

the fear that he might be the one. Music, performed by the choir, and hymns are

interspersed with the disciples' monologues. The service concudes with

communion served by the "disciples" themselves. Plan to attend this inspiring

service in preparation for Easter AND bring a friend!