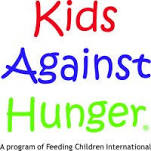 Meal Packing Event - Kids Against Hunger

The Mission Committee is excited to announce that we had the opportunity to work with

the Kiwanis to combat hunger through a hands-on project here at Northminster. We

worked with Kids Against Hunger for a meal-packing event, following worship on

Sunday, May 20th.
5,000 meals were packaged and sent to the

All Faiths Food Bank in Sarasota.