Artists and Crafters Workshop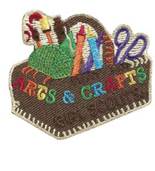 ARTISTS AND CRAFTERS WORKSHOP
The Wednesday artists group has expanded and

welcomes crafters to join them. If you're a scrap booker,

needle worker, jewelry maker or pursue any other craft, bring a

sack lunch and your supplies to the Education Building on Wednesdays

from 10:30-2:00. There is plenty of table space and good

conversation as we work together. If you can only come for part of

the day, that is alright too. Any questions? Contact Barbara Clark,

or Valerie Wilde.
Barbara Clark, Valerie Wilde